OUR CULTURE CODE
is expressed in our 5 key cornerstones that act as the purpose, beliefs, and tools that help us reach our potential as an organization and create the vibe at TimeXtender.
OUR CULTURE CODE
Our Core Purpose communicates our place, uniqueness, and direction in the world. Our Core Beliefs drive our behavior and prioritization. Together they form our anchor and compass in everyday work life. The last three cornerstones; Personal Leadership, Resilience, and Connection are not the goal itself but means that empower us to achieve our goals.
OUR CORE PURPOSE IS
EMPOWERING THE WORLD WITH DATA, MIND, AND HEART
BECAUSE TIME MATTERS
WE'RE ON A PURPOSEFUL JOURNEY
We don´t just develop software products aimed at data teams
We choose to make a lasting footprint by making one conscious step and decision at a time.
WE´RE PASSIONATELY COMMITTED TO OUR CORE PURPOSE.
THINK OF IT AS
OUR WHY
.
WE MAKE A DIFFERENCE BY DEDICATING WORK HOURS TO BOTH

PURPOSE

AND

PROFIT

.
Our DNA and Culture are built on Trust, Teamwork, and Commitment. We are all leaders at TimeXtender and our work is interdependent. WE WORK AS A FULLY DISTRIBUTED TEAM WITHIN SELF-MANAGED PURPOSE CIRCLES. We focus on impact and outcomes that fulfil our core purpose. This is what makes us Unique, Agile, and Different – in good ways!
SIMPLIFY
AUTOMATE
EXECUTE
BECAUSE TIME MATTERS,
WE ENGAGE FULLY CHARGED
WE ARE INNOVATIVE XPEOPLE
We work smarter and automate everything we can to spend time on our passions. Simplifying and putting first things first is in our DNA.
We don't believe in hierarchy, bureaucracy, and babysitters; we believe firmly in empowering smart people to take ownership of their work and how it is done. We don´t have loads of policies and procedures. We like to keep it simple and make relevant knowledge easily accessible.
We lead with context and good judgment. We use a common-sense approach and ask ourselves: What's in TimeXtender's best interest?
WE ARE EACH RESPONSIBLE FOR OUR OWN PERSONAL PLANNING & EXECUTION.
DIRECTION ALIGNMENT & COMMITMENT
ARE KEY TO SUCCESS IN OUR DAILY WORK.
WE BELIEVE PEOPLE DO BUSINESS WITH PEOPLE.
AMAZING CONNECTIONS AND RELATIONS NEVER GO OUT OF STYLE.
WE STRIVE FOR WIN-WIN-WIN



BUILT ON A FOUNDATION OF TRUST AND RESPECT TO ENSURE PURPOSEFUL AND SUSTAINABLE RELATIONSHIPS.
WE CONNECT WITH A GROWTH MINDSET
"I can learn to do what I want."
"My mistakes help me grow."
PERSONAL LEADERSHIP
IS ALL ABOUT BEING PROACTIVE, COMMUNICATIVE, COLLABORATIVE, AND GETTING THINGS DONE AS AN INDIVIDUAL.
OUR WORK IS INTERDEPENDENT, COLLABORATING ACROSS CULTURES AND TIME ZONES —

ASYNCHRO

NOUSLY

. WE ALWAYS BEGIN WITH THE END IN MIND.
THEREFORE, WE STRIVE TO MANAGE OUR TIME AND PERSONAL LEADERSHIP WELL.
Our leadership principles guide us to be the best version of ourselves and to fulfill our core purpose in business and as individuals, whether we're discussing ideas for new projects or deciding on the best way to solve a problem. Applying the principles in our personal leadership amplifies our impact and the way we work, enabling everyone to grow and contribute their best.
OUR LEADERSHIP PRINCIPLES

Trust & Respect
Believe in your team's capabilities. Trust each others' skills and decisions and respect everyone's individuality and contributions. Give and receive feedback as the way forward. Treat everyone with dignity.

Set expectations & drive excellence
Scope projects and tasks effectively. Openly share desired outcomes and expectations with others. Coach and guide them on how to continuously improve. Speak expectations, and spark excellence.

Ignite Creativity & Curiosity
Ignite everyone with ideas and curiosity to encourage teamwork. Encourage Xpeople to explore beyond their own thoughts and to inquire freely. Share knowledge and foster innovation. Embrace change. Question boundaries.

Own Continuous Value Creation
Be accountable for value creation. Take responsibility for growing value over time. Build long-term success, not just immediate results. Be proactive. Solve problems. Stay true to we are what we give. Exceed, don't just meet.
WHAT AND WHY
As TimeXtender continues to grow and evolve, we want to maintain the culture that is important to us, no matter how many Xpeoplewe are, the diversity of our backgrounds and experiences, the locations in which we work, the industries and customers we serve and the products and services we offer. We continue to be guided by our five cornerstones that empower us to achieve our goals, and so allowing us to stay true to our Core Purpose and Core Beliefs.
To be the best version of ourselves and to fulfil our purpose as an organization and as individuals, it's crucial to practice these behaviours in our Personal and Circle Leadership, whether we're discussing ideas for new projects or deciding on the best way to solve a problem.
Applying the principles at individual, circle and organizational levels amplifies how we work to achieve our financial and non-financial goals, continue to create an environment where everyone contributes their best and enjoys the experience of work, with minimal risk and disruption to achieve our Core Purpose.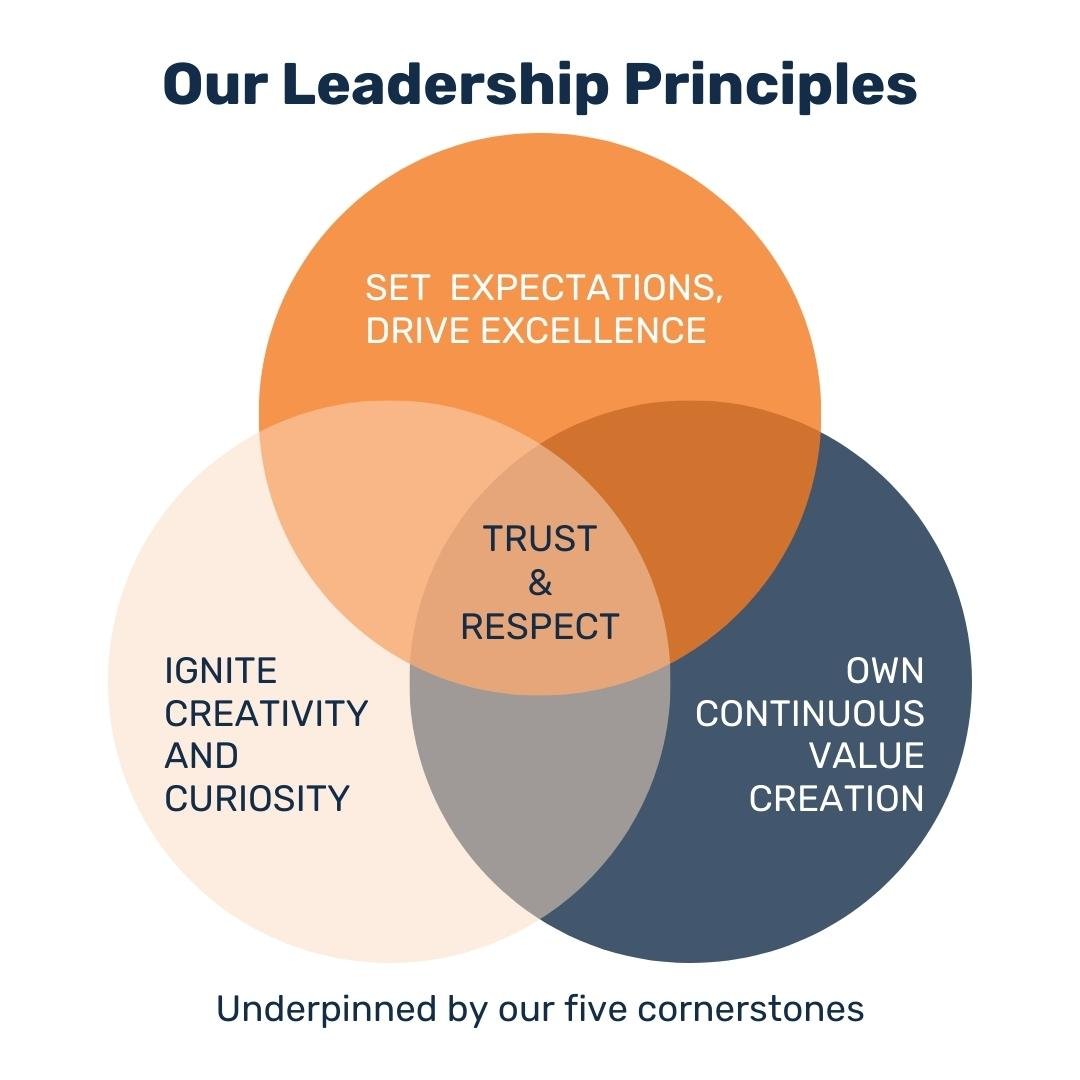 TO DO OUR BEST WORK, BE HAPPY, AND FEEL FULFILLED REQUIRES US TO BE OUR

BEST SELF

.
Because time matters not only in software development but also in the realm of our existence.
In all we do, we strive to balance data, mind, and heart. This builds individual resilience and well-being.
We care for high-quality education, health and wellbeing. We begin with ourselves and in our local communities so that every step counts to a global impact.
WE STRIVE TO RECHARGE OUR BODY AND MINDS BY

Scheduling brackets of pause during our everyday work, and meetings.

Attending recharge sessions to raise our awareness, learn new exercises and habits to sustain our best self.

Engaging in social events, reading books, taking steps to grow and learning to find a healthy balance in life.
WE ASPIRE TO BUILD A COMPANY
WITH DATA, MIND, AND HEART.
BECAUSE TIME MATTERS