Building Your Modern Data Estate on Microsoft Data Platforms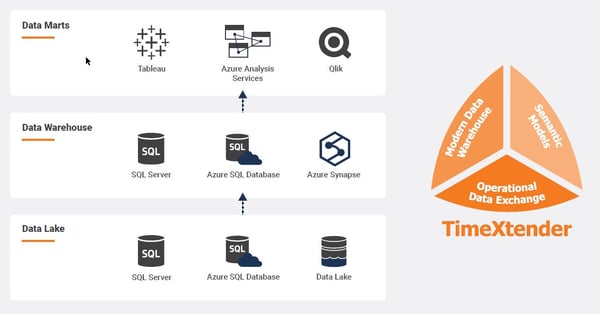 Supports Microsoft Data Platforms
TimeXtender focuses its data management framework on Microsoft technology. We support Microsoft SQL Server for on-premises deployments and Azure SQL DB and Synapse (all variants) as well as Azure Data Lake Storage, Azure Analysis Services, and Azure Synapse Analytics. We also support hybrid deployments and make it easy to migrate from on-premise to Azure as you see fit.
Microsoft-only means depth of automation
Potential customers often ask why we only support Microsoft Data Platforms – and only specific options. We do this so we can automate more of the process of defining, building, and maintaining data lakes and data warehouses. By limiting the number of platforms we support – we can go deeper in automating and ensure full support for the latest releases as they become available.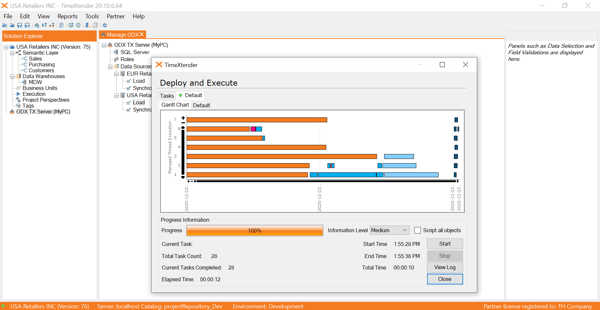 Supporting Full Cloud Deployment and Scalability
TimeXtender can run on-premises or in a virtual machine on Azure. Preconfigured solution templates is available in Azure Marketplace – so you can up and running in minutes in your own Azure cloud tenant. These templates combine TimeXtender software and Azure services, such as Azure Virtual Machines, Azure SQL DB, Azure SQL MI, Azure Data Lake Storage, Azure Synapse, and Azure Analysis Services with optimization for running with TimeXtender. This greatly shortens setup time and simplifies deployment of your data platforms for a modern data estate.