5 min read
Exclusive Interview with Donald Farmer About Mindfulness in Business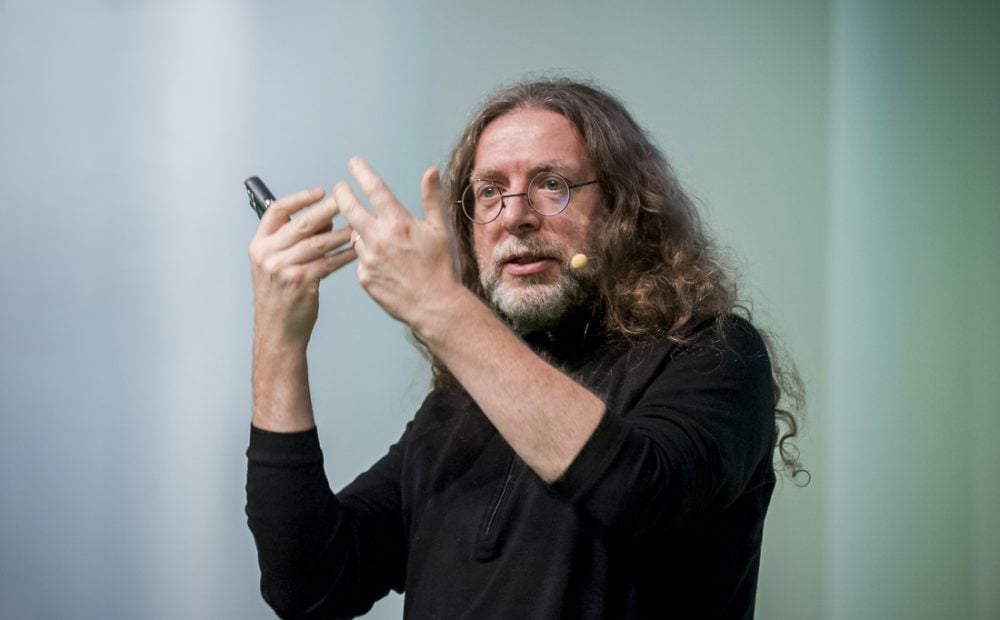 As many of you know by now, a cornerstone of TimeXtender's DNA and corporate culture is our mindfulness program. It has become a key asset in helping us, as "X-People" (TimeXtender employees) identify who we are and to provide balance and mental strength to our busy lives daily.
The proven benefits of a mindfulness program - are reduced stress, more focus, and greater energy and productivity -, we've also enjoyed sharing mindfulness with our partners, customers, and those who come to hear us speak. With that in mind, we're always interested in discussing mindfulness with others we meet who have a personal practice and enjoy meditation as a way of life. One of those individuals is Donald Farmer.
Donald has been a long-time friend of TimeXtender. As the former Vice President of Innovation and Design at Qlik, and now the Principal of TreeHive Strategy, we have worked alongside Donald on many occasions in the tech community. Interestingly, Donald too, is an experienced mindfulness practitioner, who has a deep and rich understanding about it and who has a lot to share with all of us.
We were very interested in finding out more about Donald's personal practice and interviewed him at length. The following is our interview in its entirety.
When did you start your meditation practice?
"I was introduced to meditation about 30-35 years ago. I was curious and learned what it was and how to do it but didn't make a practice out of it, until 10 years ago, when I committed myself to a daily practice."
Why did you start your meditation practice?
"I became serious when I realized I needed to become more balanced, which is the reason a lot of people start meditation. Even when I had a quiet moment, my mind was constantly churning and I wasn't settling down. I was trying to find a way of being intellectually active, to think, fill my mind with ideas but also, at times, to not have this constant conversation going on in my head. I wanted to be able to find periods of calm, which made the periods of mental activity more interesting".
What inspired you to meditate?
"I wanted to meet people who also meditate, as well catching up with people I've known for a long time, who have continued meditation and have enjoyed reaching a better place by doing so. This was very inspiring".
Do you listen to recordings or do you meditate by yourself?
"I never listen to music as I find it very distracting. I prefer to be present and aware of what's going on and music takes away my awareness. If I feel I've been drifting for a few days I will do guided meditation to refresh my practice and bring me back to focus or to learn a new technique. Once you learn to meditate there are certain kinds of music you can listen to meditatively that can help calm you."
Where did you learn to meditate?
"My first experience was in Scotland where we had Tibetan refugees. There's still quite a large Tibetan community. They held meditation classes at their temple at Samyeling, a Tibetan refugee center. There were also Buddhist centers in Scotland where I could try meditation. Ten years ago, when meditation became a daily practice for me, I found that some of the teachers were online and I also found meditation communities in the Seattle area where I received more training."
What type of meditation do you practice?
"It's more of a secular practice (not religious) influenced by insight meditation and by Buddhist meditation. I find that most useful. On a rare occasion, I will try chanting but it's not part of my regular practice."
Which benefits does meditation give you?
"One of the overlooked benefits in addition to helping your mind calm down is to help your mind focus more intensely so that you can focus and think carefully in depth about something when needed. It gives you tools you can use. So, it's not just about the moment when I'm calm and relaxed while meditating. It's also about the time when I focus when I'm not meditating. In addition, you learn to watch your mind and watch it in action, which makes you more skillful at picking up what your mind is doing and intervene if needed."
Did you change your practice along the way?
"Yes, there has been three phases to my practice. First was the learning phase where I was working with teachers online. Then I worked on my own and followed my own practice, which can be difficult. It's important to have a teacher who can help guide and explain. I've now gone back to using a teacher more. Because I'm in technology, I've explored apps and devices you can use such as electronic headbands that detect your brainwaves to tell you if your brain is calm or stressed. I've found that useful as a way of checking on how you're doing and making sure you're not caught up in bad habits.
I think it's important for your practice to change and to not get locked into the same habit. A reason for getting a teacher is that meditation isn't always comfortable when you watch your own mind at work, which can be disturbing. Things can come up that trouble you. It can be distressing if you watch your anger arising. That is why you need a teacher to recognize that it is ok and to help guide you through doing something about it. There is nothing like having someone mentor and guide you."
Where do you meditate in your home?
"I meditate in various places. I'm very lucky as we have a big garden. At the end of the garden, I have a hut I use for meditation. It's a 5-10 minute walk to the far end of the garden. I spend 1-1.5 hours in the hut in the morning before everyone else gets up. I also have a little corner in my office between my desk and bookshelf where I can meditate. Occasionally, I meditate in our treehouse, but it is mostly used for "getting away from it all" or social gatherings. To some people meditation is a way of getting away - for me it's about getting even more involved."

Tell us why you built your Threehive?
"My wife is an artist and as a child always wanted a treehouse. She had a vision of a treehouse design that looked organic and natural that would grow in a tree. We thought about it for some time, but it seemed impossible to achieve - until we discovered that the world's best treehouse builder lived very close to us. They built our treehouse as part of their TV program "Tree House Masters.""
Do you have any advice for others in tech who might want to start meditating?
"My first advice is to simply start. Don't worry about where it's going to lead you or what techniques you'll be using. Find basic guidance with a little regularity. My other advice is to look at areas where it would help you. Some are clear on what they need. Be clear on what you would like to get out of it. Some people have issues that hold them back, some struggle with pushing hard enough at work. They can find an advantage in observing themselves. It's a simple practice, and learning about yourself is the most important thing you can do. If you don't understand how your mind works, you can't help yourself."
One final question. You and Heine (Heine Krog Iversen, TimeXtender's Chief Innovation and Strategy Officer) have spoken at several events together, where he opens the meeting with a 'moment of silence.' Can you let our readers know what the feedback has been from attendees in the room following that experience?
"I always find the reactions to the moment of silence fascinating. I have spoken with some people who find it quite uncomfortable and are amazed at how long a minute really is. Funnily enough, although they don't like to feel uncomfortable, they suddenly do realize how much time they are wasting when they waste a minute. So, it does have a telling effect. Others really enjoy the moment of silence and find - especially at conferences - that it gives them a welcome moment to collect their thoughts among all the distractions!"