5 min read
Partnerships for Impact and Purpose: Eastside Academy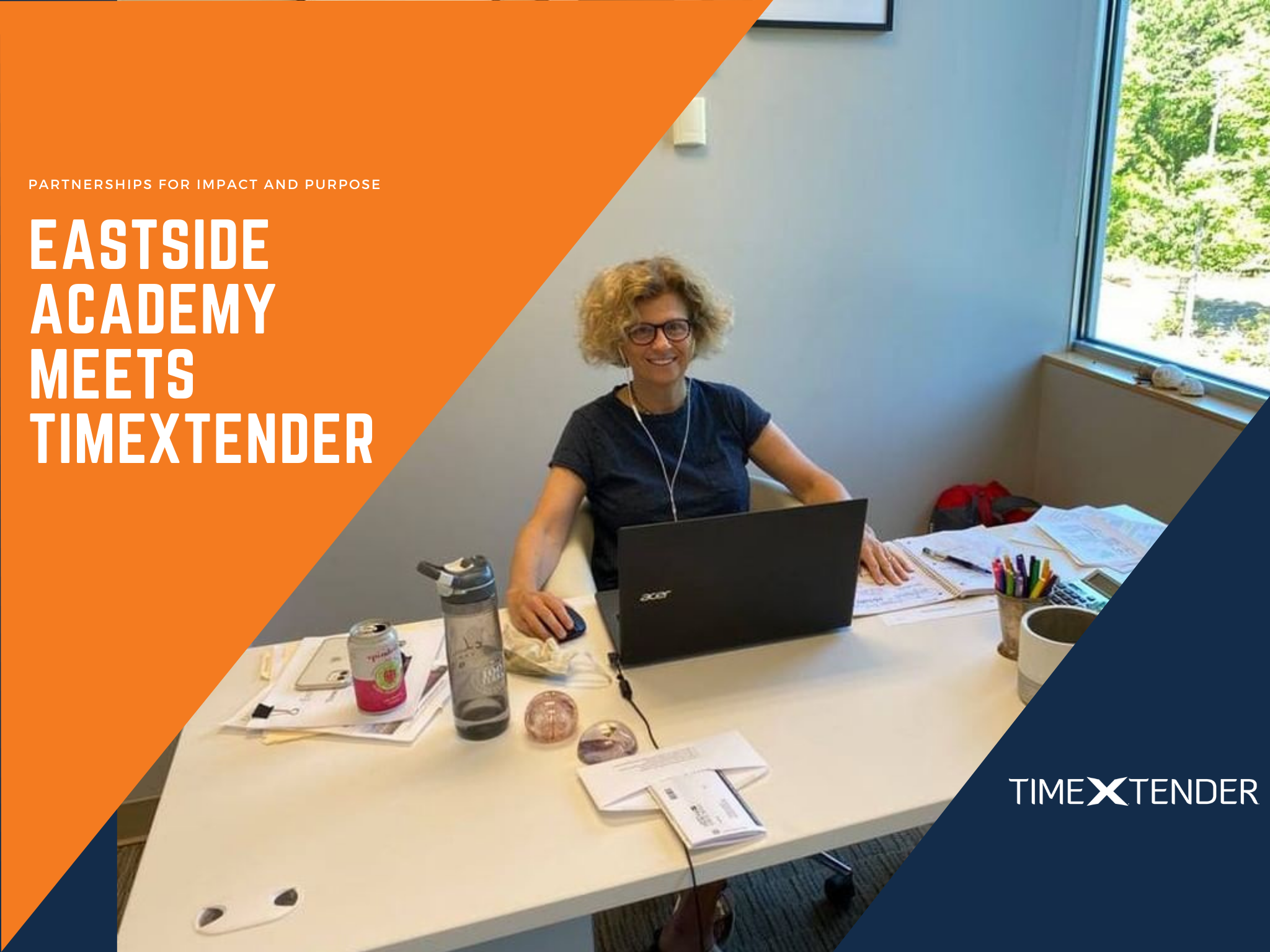 You've likely read plenty of articles explaining how 2020 has changed the way we live, and the way we work. As a result of the pandemic, we've all had to learn how to exist in the new normal, and for us at TimeXtender, that also included re-thinking our definition of an "office." While many of these pandemic-initiated conversations have been shared publicly, you may not have read very many pieces about the logistics these changes bring.

TimeXtender is no different from many other organizations in that at the beginning of 2020 we had a generously-sized office with all the bells and whistles. Our office was beautiful - we had a meditation room, great views, and lots of space to move around. But even with this amazing space to work from, TimeXtender saw a decrease in the number of people who were coming into the office each day back in 2019 when we gave employees the option to work from home a few days a week.

We also had some experience with remote work because we are a global company - over half of my coworkers don't live in the same county, and here in the US, we had a few employees who were already fully-remote for one reason or another. All of this to say that we had a small leg up when the pandemic hit, and it only took us a few days to transition into being a fully-remote company.

Pandemic or no pandemic, our office lease was going to expire at the end of June 2021, so in March 2020, we were already talking about what the next best steps were going to be for our company. We knew that by moving to a smaller office, we could reduce our monthly cost, as well as allowing employees to move to more remote work if they chose to do so. We also knew that downsizing would make a small improvement on our carbon footprint, which matters to TimeXtender.

As the manager of our physical office, I did not immediately think about the implications of going from a large, fully-furnished office with plenty of cubicles and adjustable desks, 3 personal offices, 3 conference rooms, and all the odds and ends... to 3 small offices within a shared co-working space that total no more than 400 square feet.

Before the pandemic hit, it may not have been as difficult of a situation to move out of our spacious digs, because selling the bells and whistles would have been a huge incentive. We invested in amazing office furniture when we moved into that space, and the resale value outside of the pandemic probably wouldn't have been an issue if companies were keen on buying such furniture or moving into a fully furnished office. Our reality, however, was that in this pandemic, nobody was looking to buy office furniture.
Many companies were making similar choices to downsize office space and there wasn't a resale market for the excess furniture that we had. So I was stuck with the task of figuring out what we could do with the items we no longer needed in a meaningful way.

Pre-pandemic, it would have been very easy to pay for a service that would take this excess furniture to a large charity like Goodwill or the Salvation Army, but there were a few issues with this in the time we needed to do it. The first was that many charities that allowed drop-off donations before the pandemic were closed for safety reasons.
Second being the fact that charities who were still accepting donation items frequently refused furniture as they were being overwhelmed with this type of donation. We were also concerned that some of the furniture might end up in a landfill.
Because of this, our Chief DNA & Culture Officer, Anne Krog Iversen, suggested that we start looking into donation options that would truly benefit the recipients- she even suggested a place we could consider.
Eastside Academy in Bellevue Washington is a non-profit high school that inspires change in the lives of at-risk youth through education, counseling, recovery, housing, and life skills programs. It truly is an amazing program which made it was a simple decision to see if they needed anything we had. After a few emails and phone calls, I got in touch with Carl Dodd, Head of Eastside Academy.
I sensed immediately that this was going to be a great connection for both TimeXtender and the school!
Carl came by our office to see what we had to offer and was overwhelmed by the fact that we were willing to donate such high-end furnishings. As he looked around at the adjustable sit-stand desks, the office chairs, and our outdated (for a high-tech company, at least) laptops, he was already finding uses for everything he could see.

We talked about the fact that much of equipment that is donated to them is not in the best condition, and that the way they look at their budget is always with students needs first, meaning staff needs come second. He explained that many of the teachers at Eastside Academy had been using hand-me-down desks and chairs, while others were bringing personal stuff form home to ensure their students were getting the most out to the budget they have.
Once of our Purpose Goals is to improve educations for kids who have less access, to improve the education that is given and help to open doors for students. In making this donation we hope we could help the students.

They were also seeking ways to set up their Seniors for success when they move on to bigger and better things, like college! Our laptops might not have been great for a software company, but Carl saw them as gifts to seniors that would help them succeed as they take on their next step in life. This made the decision to donate our items to Eastside Academy ever easier. This was a perfect match!
As we made arrangements and final counts of what we would have to give, he told us that the donations we were making would be saving Eastside Academy about two years' worth of budget, and that by taking these donations from TimeXtender, they would be getting better quality furniture and equipment than their budget would have ever allowed. I knew then and there that we would be making a difference and our team couldn't have been happier to see these items go to a great cause.

The day after graduation, I stopped by the school and was able to see many of the items we donated already being used. Carl introduced me to one of their Seniors who had just graduated and was setting up her new laptop which she would be using for college. It was such a rewarding moment to see the impact these items were already having on the community the school served.

We talk lot about "Win-Win" scenarios at TimeXtender, and we are always looking for ways to maximize the benefit of any given situation. This "Win-Win" has been one of my favorites for so many reasons. One is that I went to an alternative high school, as I was not finding success in a traditional high school setting. In fact, I hid the fact I could not read until I was 16. I know personally how important it is to look outside the norm in order to recognize and assist those who are struggling when you have the means to help them find success.
The dedication of the staff at a place like Eastside Academy is amazing and goes well beyond the 9-to-5. Being in a position where we were able to help them achieve more is truly a gift.

I write this post with the hope that someone reading it - someone who is potentially going through an office downsize or is looking around at all of the extra equipment and/or furniture they have and is unsure of what to do with it - can think beyond the traditional routes of donation or disposal. If you are looking to donate surplus furniture and equipment, I hope this story opens up your options to include alternatives beyond donating to places unsure if your equipment is ever really going to be used or just ultimately sent to a landfill.

For TimeXtender, this particular donation option was much more fulfilling than an anonymous donation to a huge organization because we can literally see the impact our equipment is having on these local students and teachers. It took me an email exchange and a few minutes in person to organize this with Carl, which was far less time than I had previously spent on researching all the other donation options that were available.
This is the truest definition of a Win-Win that I have ever been a part of, and it was my honor to organize it on behalf of TimeXtender.