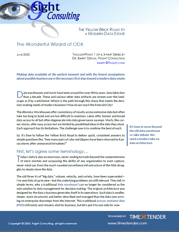 For many organizations, the road to a modern data estate is much like Dorothy's trip down the yellow brick road, with strange characters, detours, and even flying monkeys!
But it doesn't have to be that way.
In this 3-part series, written by Barry Devlin, you'll learn about a data architecture for analytics and AI that supports multiple types of data and multiple types of analysis and how TimeXtender helps you get there faster.
Dr. Barry Devlin is among the foremost authorities on business insight and one of the founders of data warehousing. Barry is founder and principal of 9sight Consulting. He specializes in the human, organizational and technological implications of deep business insight solutions combining all aspects of internally and externally sourced information, analytics, and artificial intelligence.
Fill out the short form on the right to download Part 1 of the series, "The Wonderful Wizard of ODX." In a few days we'll sent you Part 2 and Part 3.
In the meantime, here is Barry with a short video overview of Part 1 of The Yellow Brick Road to a Modern Data Estate: